There Once Was a Poem that Knew Facts: The Unlikely Love Affair Between Poetry and Nonfiction
presented by Allan Wolf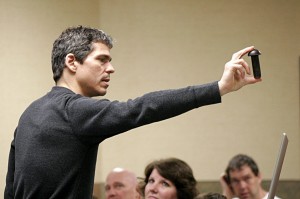 Description:
One part poetry across-the-curriculum, one part text-to-text connection, and three parts fun, this wildly entertaining session will explore what happens when Nonfiction and Poetry meet by chance and fall madly in love.
About Allan Wolf:
Allan Wolf is a performance poet and author of poetry picture books like The Blood-Hungry Spleen and young adult verse novels such as New Found Land (Candlewick Press), an American Library Association Best Book for Young Adults. Two of his books have been named School Library Journal Best Books of the Year, including Immersed in Verse: An Informative, Slightly Irreverent & Totally Tremendous Guide to Living the Poet's Life (Lark/Sterling). His latest title is an interactive book for young writers titled One Hundred Haiku to Write and Leave Behind (Lark/Sterling). Another young adult verse novel, Zane's Trace, will be released in the Fall. He lives in Asheville, NC.
NOTE: The examples, descriptions, ideas, and activities in this handout are meant for classroom use only. Professional consultants, workshop presenters, publishers and circus performers must all get permission first and use proper citations.