An acrostic (pronounced uh-CRAW-stick) poem is an easy way for students to summarize what they know about a topic by gathering together thoughts, facts, ideas, and details into a poem in which the first letters of each line spell out the topic at hand. Add an extra degree of difficulty to this form, by also arranging the last letters of each line so that they spell out a word or phrase that is appropriate to the topic.
Examples
W
ishing for freedom
H
aughty look in your eyes
I
solated in your too-small space
T
undra dweller
E
rmine-colored
F
urry and fuzzy
O
ut of place in a St. Louis summer
X
tremely quiet
Joy Ray
from Avis Harley's excellent book titled Fly With Poetry: An ABC of Poetry (Wordsong/Boyds Mills Press).
Editing the Chrysalis
"At last," cried Butterfly,
Poised
Over its
Empty chrysalis,
"My final draft!"
Avis Harley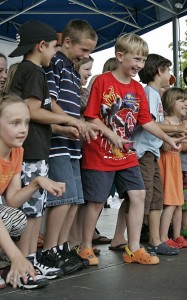 Forgotten Giants
Ancient
Bogs
Contain
Dinosaur
Eggs,
Forgotten
Giants
Hidden
Inside
Jurassic
Kingdoms.
Like
Memories
Never
Opened,
Prehistoric
Quagmires
Retain
Secrets.
Unknown,
Vanished
World,
X-tinct:
Yesterday's
Zoo.
Abecedarian
by Avis Harley