And Now… 10 Things you probably didn't know about Allan Wolf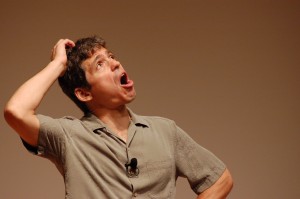 Number TEN!
Allan can recite hundreds of poems from memory.
Number NINE!
Allan's book about the, RMS Titanic, The Watch That Ends the Night, was named one of the Fifty Best Young Adult Books of All Time.
Number EIGHT!
Allan is a Third Degree Black Belt in Tae Kwon Do.
Number SEVEN!
Allan once had a pet chicken named "Attila, the Hen."
Number SIX!
Allan has two cats named Scurvy and Mange.
Number FIVE!
Allan is a Dad with three kids, two boys and a girl.
Number FOUR!
Allan never watches television. (He doesn't even
own one!)
Number THREE!
Allan plays drums in a band called The Squirrels.
Number TWO!
Allan dreams of one day living in a house
with a secret room.
Number ONE!
Allan can ride a skateboard standing on his hands.