The Snow Fell Three Graves Deep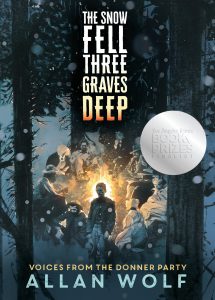 In powerful, vivid verse, the master behind The Watch That Ends the Night recounts one of history's most harrowing—and chilling—tales of survival.

In 1846, a group of emigrants bound for California face a choice: continue on their planned route or take a shortcut into the wilderness. Eighty-nine of them opt for the untested trail, a decision that plunges them into danger and desperation and, finally, the unthinkable. From extraordinary poet and novelist Allan Wolf comes a riveting retelling of the ill-fated journey of the Donner party across the Sierra Nevadas during the winter of 1846–1847. Brilliantly narrated by multiple voices, including world-weary, taunting, and all-knowing Hunger itself, this novel-in-verse examines a notorious chapter in history from various perspectives, among them caravan leaders George Donner and James Reed, Donner's scholarly wife, two Miwok Indian guides, the Reed children, a sixteen-year-old orphan, and even a pair of oxen. Comprehensive back matter includes an author's note, select character biographies, statistics, a time line of events, and more. Unprecedented in its detail and sweep, this haunting epic raises stirring questions about moral ambiguity, hope and resilience, and hunger of all kinds.
Pre-order the book here.
Finalist for the Los Angeles Times Book Prize for Young Adult Literature
"The Snow Fell Three Graves Deep is historical fiction at its very best." BookPage, Starred Review
"This historical narrative reads like a thriller, with nature, arrogance, ignorance, and greed as the villains." Kirkus Review
"An impressive, albeit woeful, slice of American history that old middle grade readers will sink their teeth into." Shelf Awareness, Starred Review

"Meticulously researched, increasingly more compelling with every page, and stunningly imagined, this journey with the Donner party details the grim reality endured by eighty-plus souls from April 1846 to April 1847 during their tragic attempt to reach the west coast. The reader is drawn in, becomes a member of the party, and endures the hardships and desperation along with the struggling travelers. As we face challenges in a contentious world rife with illness, suspicion, and fear, we should look to this book to illuminate the struggle to retain our hard-won humanity."
Karen Hesse, Newberry Medal–winning author of Out of the Dust

"Magnificent, apocalyptic, tender, and meticulous, The Snow Fell Three Graves Deep traverses all that it means to be human and all that it takes to survive." Gigi Amateau, author of Come August, Come Freedom

"Allan Wolf has truly carved out a niche for himself in the realm of the historical novel-in-verse…Even the most reluctant readers, and certainly American history students, will find this historical novel riveting. Pair this with the author's New Found Land: Lewis and Clark's Voyage of Discovery (Candlewick 2004)."  School Library Connection
"Though historical fiction, this book is truly slow-burn horror that sees relationships strained, loyalties fractured, minds shattered, and a body count that piles up like the snow relentlessly falling on the trapped travelers. … Another bone-chilling, unshakable success by Wolf."
BookList, Starred Review
"In this ambitious novel in verse about the infamous 19th-century expedition, Wolf (The Day the Universe Exploded My Head) accomplishes the seemingly impossible: an evocative and sympathetic rendering of a horrific historical event. Told in eight distinctive voices—with Hunger in the role of omniscient narrator—among them several minor speakers, two children, and two Miwok vaqueros, the book builds in slow, harrowing suspense toward the moment when imminent starvation forces the characters to consider "a final contingency," that one of their bodies "might deliver the rest from death." As the original Donner and Reed family members travel west to California from Illinois, they join forces with others, eventually becoming a group of 87 that encounters increasingly difficult conditions and growing hunger, culminating in unexpected early blizzards ("Silent. And soft. And slow") that strand the party. The individual voices quickly become recognizable, a combined chorus that creates a multidimensional telling of this "catastrophic failure" that haunts the problematic story of western expansion. The rich extensive back matter (including "Native Americans and the Donner Party," "Reality Checks," and numerous statistics) adds historical context and factual clarity to this arresting saga. Ages 14–up. (Sept.)" Publishers Weekly
"Careful attention to detail, skillful character development, and expert pacing prevent this ambitious undertaking from buckling under its vast scope. The forty pages of back matter are essential reading as well."
The Horn Book, Starred Review
"Allan Wolf has truly carved out a niche for himself in the realm of the historical verse novel. His newest work focused on the ill-fated Donner Party will not disappoint readers. … Even the most reluctant readers, and certainly American history students, will find this historical novel riveting."
School Library Connection, Highly Recommended