Get Students Ready for Allan's Visit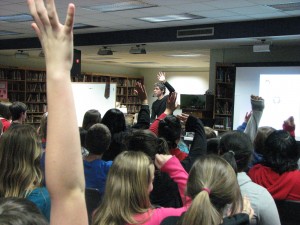 Students and Teachers can  prepare for the author visit by exploring Allan's website. Look for interesting details and information. Watch videos of Allan in action. Peruse the bibliography.  Search out his poems in the anthologies listed there. Read one of his books. The more you prepare for the author visit the more your audience will get out of this unique opportunity to meet a real working writer and poet.
Click the button below for a fun introduction to Allan Wolf, written with all ages in mind. Teachers can share it directly with their students. It explains what kids can expect during Allan's presentation. It also includes a few poems and activities.