Author Visits and Presentations
Whether you're hosting a large group assembly or a small group session, any of my presentations will include something from the list below. Keep in mind that the poems, activities, and talking points may overlap from presentation to presentation. Elementary School assemblies and Family Shows generally do not require a projector and screen. But Middle, High, and Adult presentations generally DO require a projector and screen.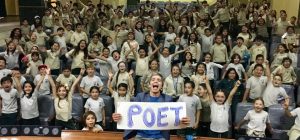 Here's a sample of Allan Wolf presenting poetry to kids and families
Here are a few things that I may incorporate into any of my presentations:
Recitation of poems from memory (like a storyteller);
Poetry-themed music and songs with my guitar;
Four elements of poetry (rhyme, rhythm, music, story);
Juggling to demonstrate meter and rhythm;
Reading of poems from a book;
Props (a wire coat hanger, a gong, a jug of maple syrup, a rubber chicken, etc.) to illustrate talking points and lessons;
The Po-Folk vs the No-Po; Seeing the world through a poet's eyes;
Audience participation, call-and-response, kids on stage;
Display of photos and/or mentor texts;
The story (with pictures) of how I wrote on my bedroom walls (and ceiling and windows and furniture) as I was growing up;
Transforming poems into scripts;
Recognizing Character, Action, Setting, and Theme within a poem.
Author Visits & Book Talks
(k-2, 3-5, 6-12, adult)​​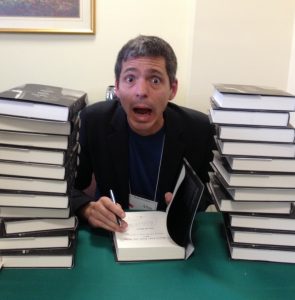 Allan Wolf enjoys visiting with schools, classes, book clubs, and other groups (whether or not they have read his books). A day of Author Visits can be generally informal although it may include more formalized presentations as well. Wolf will share the story of how he came to write one or more of his books. He will describe his writing process, answer questions, and sign books. Some of his titles have accompanying Curriculum Guides with study questions, suggested activities, plus information and secrets behind the making of the books. Mr. Wolf's books are available anywhere books are sold. You can purchase them directly from the distributor at a 40% discount for resale.
Immersed In Verse: Allan Wolf's Poetry Palooza!
(K-2, 3-5, 6-8, 9-12, Family, General, or Adult)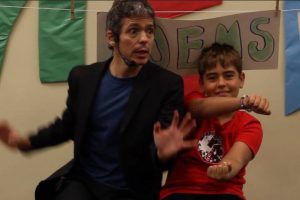 Whatever the grade-level or occasion, the main objective of this presentation is to get your audience jazzed about poetry and the power of words. Allan Wolf, an award-winning poet and master presenter, performs poetry from memory, mixing theatre, music, and audience participation. Students will experience contemporary and classic poetry in a wide variety of styles and subjects.  With nearly a thousand poems committed to memory, Wolf is able to tailor his content and approach to suit nearly any audience and any occasion.  Perfect for kicking off a poetry unit or to celebrate National Poetry Month. Wolf gives students an opportunity to meet a real working author while learning how we transform words into poetry and how poems transform the ordinary into the extraordinary.


Voices From the Titanic: History Through a Poet's Eyes
(3-5, 6-12, family, adult)​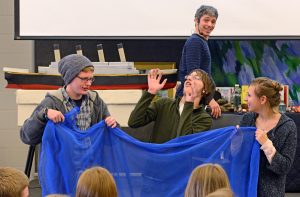 Award-winning author and performance poet, Allan Wolf, demonstrates how he transforms historical fact into historical fiction.  Experience the 1912 voyage of the doomed Titanic through poetry, storytelling, costume pieces, and historical photos as Wolf presents a special interactive author talk based on his multi-voice novel, The Watch that Ends the Night: Voices from the Titanic.  With a 5′ long Titanic model "puppet," Wolf demonstrates how the ship was constructed, struck ice, broke in half & then sank.  He addresses Titanic myths and facts.  He brings some of the Titanic's passengers to life: the ship's designer, the ship's owner, the captain, a 9-year-old boy, the "unsinkable" Molly Brown, even the iceberg itself!  The Watch that Ends the Night was named the North Carolina Young Adult Book of the Year by the North Carolina School Library Media Association.  Booklist named Watch one of The Fifty Best YA Books of All Time.
Metaphors Be With You: Poems From Space!
New for 2020-2021!
(Grades 3-6, Families, General)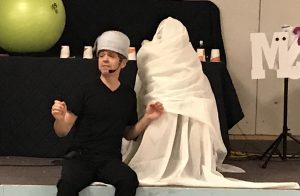 "Allan Wolf's poems mingle astronomical fact with outrageous fiction." Wall Street Journal
Help put the soul into Solar System! A new presentation by performance poet Allan Wolf that is one part facts and three parts fun!
A fun, informational presentation perfect for  third through sixth grades (but easily adaptable for any audience). Featuring costume pieces, puppets, juggling, music, and, of course, Allan Wolf's engaging award-winning poetry. An interactive out-of-this-world introduction to our solar system and beyond. 
Wolf brings each planet to life with its own memorable personality. Saturn is a fashionista. Jupiter is a bodybuilder. Neptune sings the blues. Mercury is an annoying little brother. Venus is a lonely femme fatale. Elderly rockets reminisce at the Rusty Rockets Retirement home. Members of the audience become world famous astronomers of the present and past. 
This presentation is based on Allan's new book, illustrated by Anna Raffe,  titled The Day the Universe Exploded My Head: Poems to Take You Into Space and Back Again (Candlewick Press).
Workshops, Word shops, Classroom Follow-Ups, In-Services, Keynote Talks and other such Animals​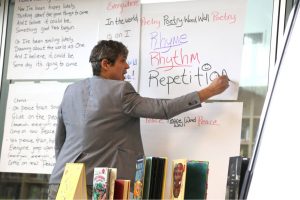 Note from Allan: My presentations are entertaining and educational. And I have thirty years' experience working in classrooms with students and teachers. But I am first and foremost a poet and a writer. I am not a teacher. In workshops I present myself as a working writer. My aim is to inspire and model. These sessions are generally meant for smaller groups but numbers are flexible depending on the occasion and needs. (These sessions typically require a projector and screen, but not always.)
Writing Workshops: Fun intro, mentor texts, a writing prompt, group modeling, individual writing, and sharing.
Poetry Performance Workshops: Fun intro, mentor text, CAST (Character, Action, Setting, and Topic/Theme), basic stage technique (voice, posture, stage position), scripting (dividing lines into speaking parts), large group modeling, STARS (Set, Title, Action, Receive applause, Strike), small group rehearsal, and sharing.
Follow-up Classroom Visit: A chance to "meet the author." Informal and fun. We will do whatever seems appropriate at the time.
Teacher Workshops: Putting poetry to work in the classroom. Best practices. Specific topics will vary based on need.
Keynote Talks: Love them. These may require additional prep in order to fit the needs of each occasion.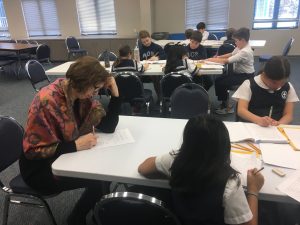 A sample of some past talks:
Active Voice: Using Poetry Theater to Get Literacy on Its Feet
There Once Was a Poem That Knew Facts: The Unlikely Love Affair Between Poetry and Non-Fiction
Immersed In Verse: An Informative, Slightly Irreverent, and Totally Tremendous Guide to Living the Poet's Life
Metaphors Be With You: Using Poetry in the Classroom, Best Practice
I am available for "residencies" for 2-5 days at one or more schools. I still like to cap my number of presentations at four/day. A residency can consist of:  1) A progressive sequence of linked presentations with a repeat audience,  2) A series of unconnected presentations with different audiences, or  3) Some combination.