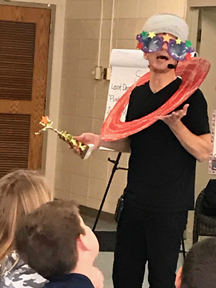 Launching Poetry Into Space!
Hello Po-Folk,
Let the countdown begin! In just two weeks my book of space poems is "go for launch!" The Day the Universe Exploded My Head: Poems to Take You Into Space and Back Again (Candlewick Press) is beautifully illustrated by the amazing Anna Raff. To mark the occasion I will be offering schools and libraries a special presentation based on the book, complete with music, costumes, puppets, participation, amazing facts, and, of course, a lot of poetry! This book and special author presentation are a great way to mark the 50thanniversary of the landing on the moon!
I believe in bringing poems to life, from page to stage, so I've been busy memorizing poems from my new book. I presented the poems to audiences (of 3rd-8th graders) in Texas and Louisiana, which taught me a lot about what worked and what didn't. Sort of like a stand-up comic honing new material with every gig. It's the live audience that makes all the difference. That's the secret ingredient.
If you happen to be in or near Asheville, NC please join us for the "launch" of The Day the Universe Exploded My Head at legendary Malaprops Bookstore. Saturday, March 16th, 2019. At 4:00 PM.
I'm now booking author visits and poetry presentations (all grades welcome) for the rest of this school year, and next. So far my travels will take me to NC, SC, TN, KY, LA, VA, PA, NY, and TX! In March I will even be traveling to Quito, Ecuador for a week of school visits there. I'm willing to go just about anywhere to get kids jazzed about poetry and the power of words!
My poem, The Proper Way to Meet a Hedgehog, appears in a new anthology with the same name. It's a book of How-To poems edited by Paul Janeczko, available in March. For more info on my latest books and presentations, send me an e-mail or visit my newly updated website!
Be well, do good, and metaphors be with you!
Allan Wolf