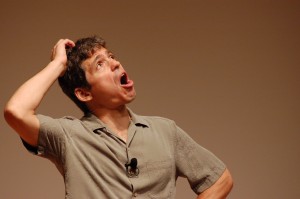 TEN THINGS YOU (PROBABLY) DIDN'T KNOW ABOUT ALLAN WOLF
10. Allan can recite hundreds of poems from memory.
9. Allan's latest book is about the RMS Titanic.
8. Allan is a second degree black belt in Tae Kwon Do.
7. Allan once had a pet chicken named "Atilla the Hen."
6. Allan has two cats named Scurvy and Mange.
5. Allan is a dad with three teenage kids, two boys and a girl.
4. Allan never watches television. (He doesn't even own one!)
3. Allan plays drums in a band called The Dead Poets.
2. Allan dreams of one day living in a house with a secret room.
1. Allan can ride a skateboard standing on his hands.