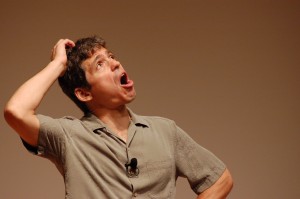 TEN THINGS YOU (PROBABLY) DIDN'T KNOW ABOUT ALLAN WOLF
10. Allan can recite hundreds of poems from memory.
9. Allan's latest book is about the RMS Titanic.
8. Allan is a second degree black belt in Tae Kwon Do.
7. Allan once had a pet chicken named "Atilla the Hen."
6. Allan has two cats named Scurvy and Mange.
5. Allan is a dad with three teenage kids, two boys and a girl.
4. Allan never watches television. (He doesn't even own one!)
3. Allan plays drums in a band called The Dead Poets.
2. Allan dreams of one day living in a house with a secret room.
1. Allan can ride a skateboard standing on his hands.
A FEW ALLAN WOLF STORIES:
As a Child:
Although I wrote poetry at a very early age, my life as a writer officially began on April 12, 1975 just after my twelfth birthday. That was the day I began to write on my bedroom walls. I started small, writing the date lightly in pencil, behind the bed where it couldn't be seen. It felt good. It gave me a feeling of peace and relief, as if I had just scratched a really urgent itch. A few days later I wrote some more. I gradually began using permanent markers and writing out in the open where the words were in full view. I wrote words and phrases, poetry and pictures. I wrote deep thoughts and shallow nonsense. My walls became a diary upon which I recorded the events of my life. I wrote on my walls every day for years until my room had become one huge continual tattoo of words and pictures that spread over all four walls, the ceiling, the floor, even some of the furniture.
As an Adult:
I earned my Master's degree in English at Virginia Tech and taught college composition there for a while. I left the classroom to join a traveling troupe of poets and actors that performed poetry as theatre in schools all over the United States. My many years with Poetry Alive! showed me a side of poetry that I never saw in graduate school. Because of my experiences in school and with Poetry Alive!, it was only natural that I became an author of books for young people.
As a Writer:
My first book for kids, The Blood-Hungry Spleen and Other Poems About Our Parts, was inspired by a sixth grade life science class project I saw while working as an artist-in-residence at a school in Seoul, Korea. The kids created an anatomy chart of the human body by writing poems about all the various parts. On the long plane trip back to the U.S., I began writing. Because I consider myself a life-long learner, I like to write books that require some amount of research. My interest in American history led me to write a novels in verse about Lewis and Clark, Sacagawea, the Ohio River Valley, the Titanic, and the Oregon Trail. If I really want to learn about something, I write a book about it.
I usually write by hand onto pads of paper. Then I type it all in later. I type very quickly and very inaccurately. I use an Apple MacBook Pro. With three kids and deadlines to meet, I've gotten pretty good at just plopping down anywhere and getting to work. But my best writing usually requires quiet and solitude. I converted my garage into an office where I am surrounded by wall-to-wall books. My office has a desk for writing, a sitting area for reading, and a "play space" for juggling, memorizing poems, playing the trombone, whatever.