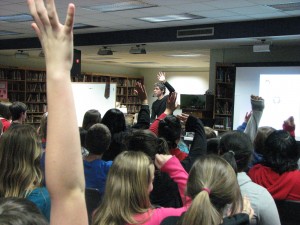 Allan has written study guides for 3 of his school presentations, designed to support teachers before and after the visit. They include writing prompts, group activities, and tips for engaging students in reading, writing and performing poetry. Because they are written for teachers across all grades, they may require adaptation.
Allan's book, Immersed in Verse: An Informative, Slightly Irreverent & Totally Tremendous Guide to Living the Poet's Life, covers the writing of poetry in a very detailed way. For a more in-depth treatment of poem performance refer to Wolf's It's Show Time or Something Is Going To Happen
For any professional use beyond the classroom please contact Allan Wolf for permission.
Poetry Meets Non-Fiction Workshop Guide