Order Books For Your Event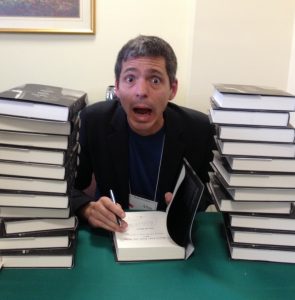 To order Allan Wolf's books published by Candlewick Press for your event (books from other publishers must be ordered separately):
When you are ready to place the order (usually about 3-4 weeks prior to the event), contact the Customer Service Department of our distributor, Penguin Random House.
You can open an account with Penguin Random House by emailing newaccount@penguinrandomhouse.com or calling Customer Service at 800-733-3000, or you can also place a one-time event order using the same customer service line.
If you choose to place a one-time event order, you have to pay up front. The easiest way is to do this is by credit card, but you can also pay by check (this takes longer as PRH has to receive and process the check before they ship the order).
Regular shipping is free (though you will be charged if expedited shipping is necessary) and the books are fully returnable (refunds for returns will be made to the card)
Event orders are assigned a 40% discount off the cover price
Any books that are purchased for the event but are not sold or used can be returned. You are responsible for all return shipping charges. If you think you may need to return books, you will want to copy your packing slip to include with the return shipment.
When you call the Customer Service Department at 800-733-3000, stay on the line until a representative comes on – you do not need to select from their menu of numbers. Penguin Random House will charge sales tax unless they are provided with the required tax exemption documentation. They will need the following information:
The title, ISBN, and number of books you would like to order
Where you would like them to be shipped (including a contact name and phone number)
Date of the event or date you need the books
Credit card information including the billing address
Your tax exempt certificate will need to be faxed to them; the person working on your order will give you the fax number.
For simplicity, many schools and libraries prefer to work with a local bookstore. But Penguin Random House works very well when there is no local partner.
Stephanie Straus at Candlewick can help ensure a smooth and successful event for you. Don't hesitate to contact her if you have any questions: 617-588-4512 (phone), 617-623-4912 (fax), or e-mail her at Stephanie.Straus@candlewick.com. She can also send you digital images of book covers if you need them.
Candlewick titles by Allan Wolf:
| | | | | |
| --- | --- | --- | --- | --- |
| ISBN (13 digit) | Title | Format | Cover Price (US) | 40% Discounted price |
| 9780763680251 | The Day the Universe Exploded My Head | Hard Cover | $17.99 | $10.79 |
| 9780763663315 | The Watch That Ends the Night | Trade Paperback | $16.99 | $10.19 |
| 9780763638061 | The Blood-Hungry Spleen and Other Poems About Our Parts | Trade Paperback | $9.99 | $5.99 |
| 9780763632885 | New Found Land: Lewis and Clark's Voyage of Discovery | Trade Paperback | $14.99 | $8.99 |
| 9780763628581 | Zane's Trace | Hard Cover | $16.99 | $10.19 |
| 9780763643782 | Zane's Trace | Trade Paperback |       $7.99 | $4.79 |
| 9780763656133 | Who Killed Christopher Goodman?: Based on a True Crime | Hard Cover | $16.99 | $10.19 |
Allan Wolf's poems appear in many excellent anthologies for young people.  For a select list of many of these anthologies (and their publishing info) refer to the Age Recomendations page.