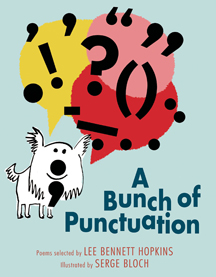 Just Out! A Bunch of Punctuation…
A new anthology has been published with one of my poems! The topic… (hint hint).
Selected by noted anthologist Lee Bennett Hopkins, A Bunch of Punctuation is a collection of all-new poems written from the points of view of personality-filled punctuation marks, and is a memorable introduction to grammar for children ages 7-12.