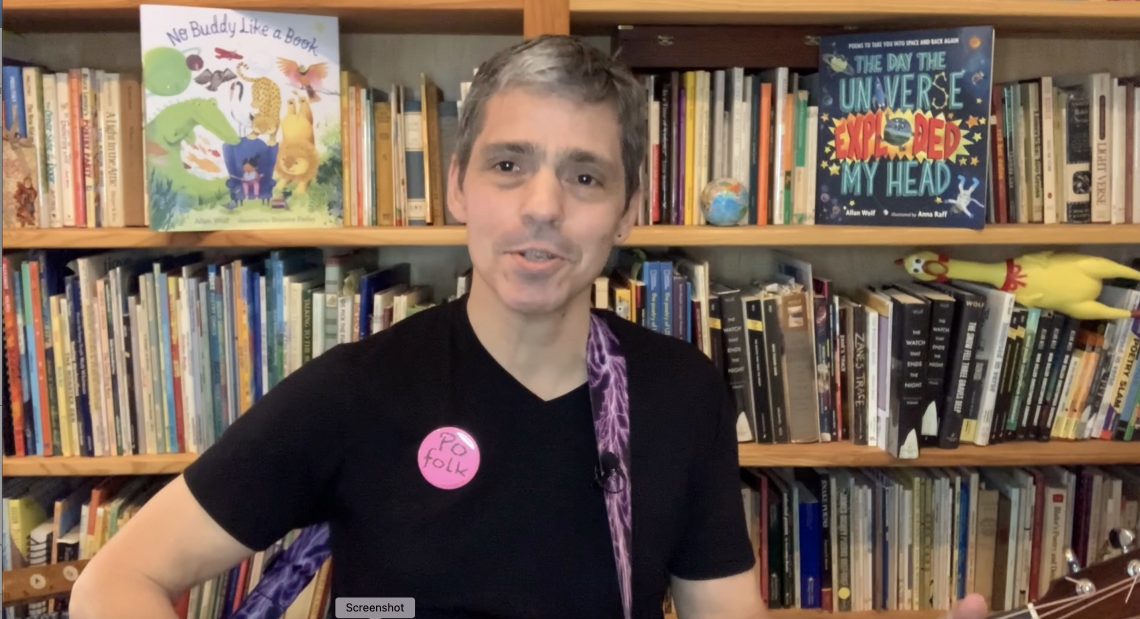 To kick off National Poetry Month, 2021, I'd like to share this fun video of The Haiku Song. Please share it around, and remember that April 17th is National Haiku Day. This 3-minute video snippet is a part of a full-length video I've put together for the older elementary grades.
New Author/Poetry Videos for Elementary Grades
While in-person author visits are on hold due to the pandemic, I've begun to offer full-length videos for the elementary grades. Each video features fun performances and talking points just as my live presentations do. Available for classrooms, schools, and libraries in search of an asynchronous author experience, we can also arrange synchronous on-line author visit and Q&A to follow-up. The cost will vary with the duration and scope of use.
Available Now
Allan Wolf's Big Po Show (for grades 3-5). Perfect for National Poetry Month or year-round, this 30-minute video is meant to get kids jazzed about language. Talking points include the difference between poetry and prose, and the ways poetry performs on the page. I play the guitar, sing, juggle, and, of course, act out many of my own poems with a special focus on my collection of space poems, The Day the Universe Exploded My Head.
No Buddy Like a Book (for grades K-2). This video features me performing my picture book, No Buddy Like a Book. I include a few words about writing, poetry, and the special relationship between a book and its reader! The book's illustrator, Brianne Farley, even gives a detailed explanation of how she brought the words to life through pictures. The video ends with a climb-into-my-lap style reading of the book from cover to cover.
Free Literacy Lessons on PBS
Poems from my book, The Day the Universe Exploded My Head will be the feature of PBS's Classroom Connection series. April 13th and 16th and April 20th and 23rd at 9 am on PBS NC or on-line.