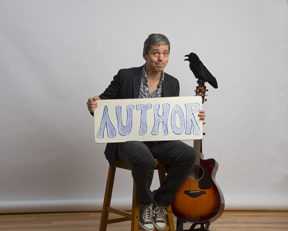 I now have five books under contract coming from the good folks at Candlewick Press.
I have finished the first draft of of the final book in a trilogy (think New Found Land and The Watch that Ends the Night) of historical journey/disaster tales. The subject is the doomed Donner Party who find themselves trapped in the Sierra Nevada mountains in 1848. This one is a bear! I'm working on it as we SPEAK!
I'm in the editing stages of a collection of poems about Space, titled The Day the Universe Exploded My Head: Poems That Take You Into Space and Back Again. We've already got some art from the wonderful Anna Raff! This one is due to come out in Spring, 2019 just in time to the anniversary of the lunar landing!
Other Projects in the Pipeline: I have two picture books in the works as well as another collection of poems (about a school garden). Each of these three will be published by Candlewick Press. More on them later.